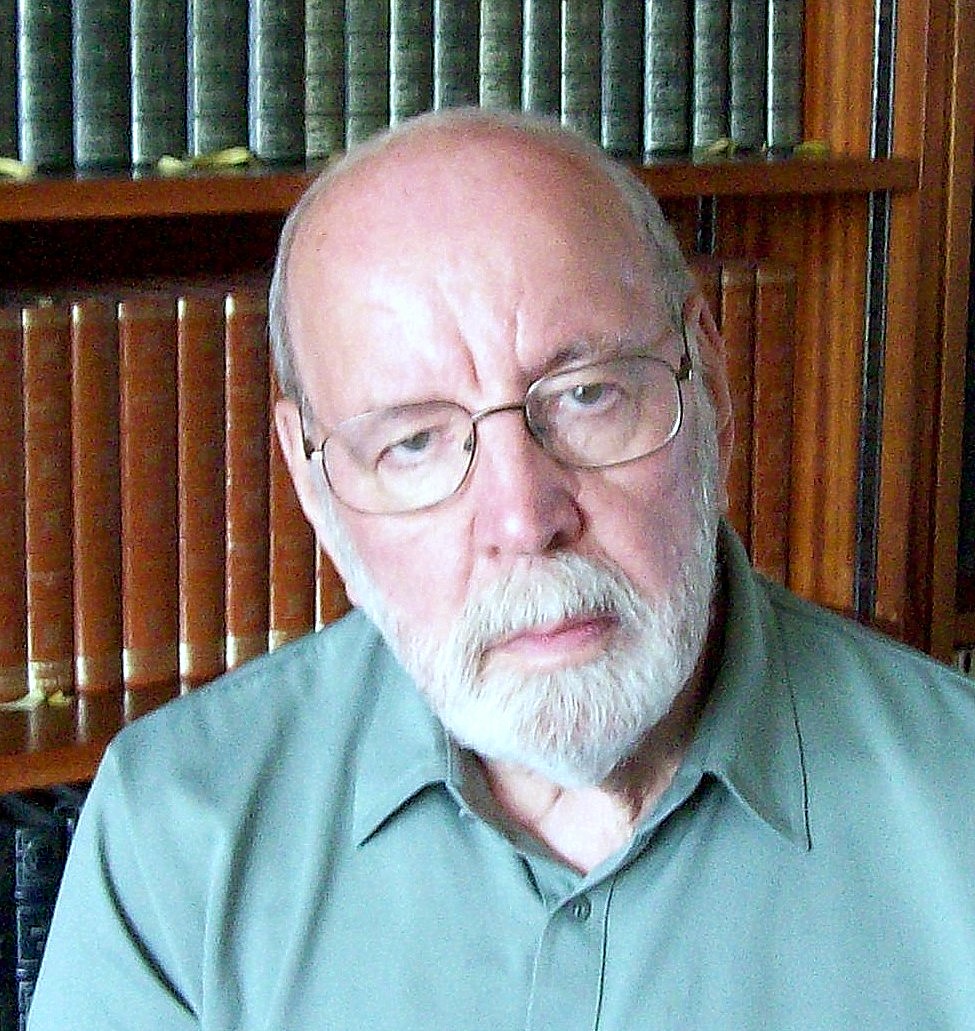 Rex Howard Needle, who died on 22nd March 2021, aged 90, worked as a journalist for almost seventy years with the national, provincial, trade and overseas press, radio and television.

He was born at Old Fletton, Peterborough in 1930, and educated at the local elementary and secondary schools and after a spell working as a wages clerk with the London Brick Company, signed on as a regular soldier with the Royal Tank Regiment at the age of 17, serving for the next five years at home and abroad, latterly in Singapore and Malaya during the Emergency.

On leaving the army in 1953, he became a reporter with the Peterborough Citizen and Advertiser and Evening Telegraph, becoming features editor and chief reporter and news editor, but a job offer from the legendary editor Arthur Christiansen took him to the Daily Express and then the Daily Mirror in London during the hey-day of Fleet Street journalism.

He completed many assignments overseas and was one of the reporting team to cover the famous Summit Conference of 1960 in Paris attended by the Russian leader Nikita Krushchev, the American President Dwight D Eisenhower and the British Prime Minister Harold Macmillan.


At the Paris Summit in 1960 with members of the Daily Mirror team.
In the picture are (left to right) Noel Whitcomb, Rex Needle, Sydney (later Lord) Jacobson, Marjorie Proops and James Pettigrew



In 1962, he decided to leave Fleet Street and returned to Peterborough to establish his own news agency, subsequently opening branch offices in Stamford and Cambridge and employing both reporters and photographers. During this period, he became an accredited correspondent to the national and overseas press and for 20 years was a regular radio broadcaster and television news reporter for the BBC. For five years, he also contributed a weekly newsletter without a single break for the British Forces Broadcasting Service which was heard throughout the world.

He retired in 1983 and moved to Bourne where he soon became interested in the town's history and this led to the launch of the Bourne web site in 1998 during the early days of the Internet which eventually became the longest running community web site for a market town of this size, winning several awards including a Golden Web Award for design, content and creativity in 2000.

The web site eventually attracted 2,000 visitors a week, many from abroad, especially our former colonies in the United States and Canada, Australia and New Zealand, where people from Bourne had emigrated in past times and their descendants were anxious to seek information about their family roots. This prompted the inclusion of a Family History section on the web site which eventually had a list of more than 400 local names being researched.

During this period, Rex also widened his researches into the history of the town which continued to be a consuming passion, the results having been committed to the CD-ROM A Portrait of Bourne, a massive work that has been sold around the world. There have been previous histories of the town but this archive now embraces them all, containing over 6,000 photographs and some two million words of text and has been described as "a masterpiece of local history" and "a modern Domesday Book".

A great deal of Rex's researched material is also on display at the Heritage Centre in South Street, the town's museum, and has also been used in past issues of the town guide, while other web sites that have an interest in Bourne, both in Britain and abroad, have continually sought permission to include subject matter relevant to their own interests.

Several places in Bourne have been named on his advice, notably Marquess Court in North Street and Browning Court in Manning Road, and one of his most notable achievements was in the listing of the Victorian chapel in the town cemetery to prevent it from being demolished by the town council. His application to the Department of Culture, Media and Sport (DCMS) resulted in the building being given a Grade II listing in April 2007 followed by a similar protection for the Ostler memorial fountain in July that year, bringing the number of listed buildings in Bourne to 71.

In 2014, he was also responsible for bringing the Victoria Cross memorial tablet for Charles Sharpe to Bourne, the original destination named by the Department for Communities and Local Government during their World War One centenary celebrations being Sleaford but Rex produced evidence of Sharpe's extensive family and working association with Bourne and as a result, South Kesteven District Council received an assurance from the minister, Eric Pickles, that the database would be changed to reflect his home town as Bourne and the stone was subsequently laid at the War Memorial in South Street in May 2015.

Rex was a regular contributor to the Bourne Local newspaper for over 20 years and during that time over 500 of his articles were published together with others in various magazines throughout Lincolnshire and elsewhere. Copies of the CD-ROM were made available to Lincolnshire County Archives, public libraries and schools for use in social history studies.

He also completed an impressive body of work about this town through his weekly articles on assorted subjects, several books such as The Bourne Chronicle (2005), Tales of Bourne in Past Times (2009), Stamford, Bourne and the Deepings (2009), Brief Lives of Bourne People (2010) and A Brief History of Bourne (2012) as well as four DVDs based on his own collection of contemporary and archive photographs including Bourne in Past Times, The Abbey Church, the Red Hall and Images of Bourne, a glimpse of the town as it is today. He also wrote a series of 30 booklets on various topics connected with the town, many of which are in the public library and the Lincolnshire County Archives.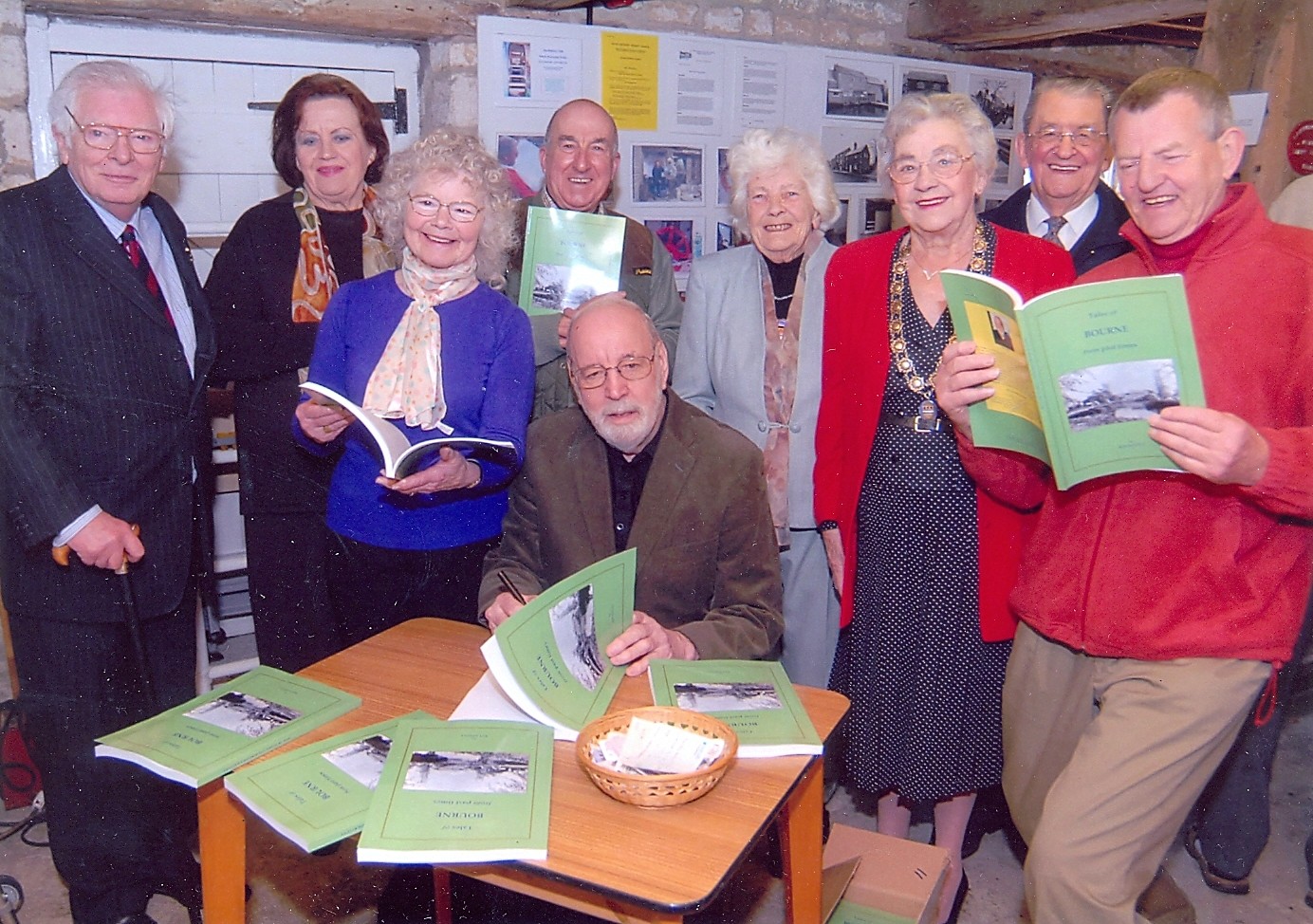 Rex (seated centre) pictured at one of his book signings at the Heritage Centre in 2009.
With (left to right) Don Fisher (town councillor and former mayor), Mrs Elke Needle, Mrs Brenda Jones (chairman, Bourne Civic Society), Tony Stubbs (military historian), Mrs Cherry Cliffe (mayor's consort), Mrs Shirley Cliffe (Mayor of Bourne), Alan Jones (former town councillor and mayor) and John Budd (Bourne Civic Society)



His last project was the Bourne Picture Archive in which photographs he had taken of town and district over the past twenty-five years were brought together and preserved in conjunction with Geograph Britain, a total of almost 1,000 images of churches, houses, public buildings, open spaces, rivers, parks and other places of interest, the largest collection of photographs relating to the town ever recorded which are now available online for anyone who cares to see or use them for their own projects.

Rex lived with his wife Elke in Stephenson Way, Bourne, which was their home since he retired in 1983. They were married for nearly 60 years and she acted as driver, navigator, note taker, proof reader and constant companion on outings around the town and outlying district in the search for new material. It might have appeared that everything that could be discovered about Bourne had been written during that time but new material continued to arrive almost weekly and he always insisted: "The quest continues."

He and Elke have one son, Dr Justin Needle, former pupil of Stamford School and a graduate of Trinity College, Cambridge, who has several degrees from other universities and is now a Senior Lecturer in health policy at City, University of London. He is married to Dr Sonia Johnson, Professor of Social and Community Psychiatry at University College London, and they have one son, Anton.


Rex Needle, August 2019
Updated March 2021